Exclusive interview with fashion model Anastasia Belostkaya who appeared in leading publications like Elle, Cosmopolitan and others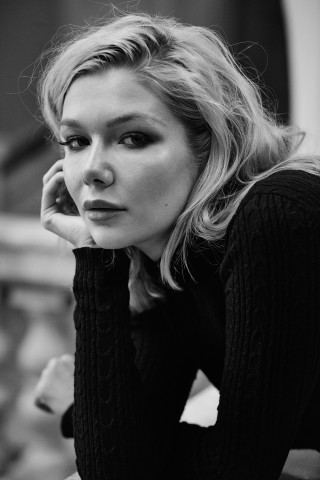 Anastasia Belotskaya is a fashion model who appeared in numerous publications such as Elle, Glamour, Cosmopolitan, L'Officicel, Maxim, FHM, Nylon and posed for major cosmetic companies including MakeUpForever, Covergirl, Buxom, BareMinerals. Well, the list is endless.
In this exclusive interview, she talks about her modeling career, and her recently launched lingerie brand named Skaya Shop.
Q – So, we won't ask where you are from and how you started modeling, you answered those in other interviews.
A – Haha yes, ok, we can totally skip that part then.
Q – In your most recent interview for Mexican Maxim you said that as a child, you wanted to become an astronaut, is that true?
A – Somewhat. That idea crossed my mind a couple of times when I watched documentaries about Yuriy Gagarin, the first man who went to space. But generally no, that was not my dream.
Q – Is that true that models eat only low-calorie meals?
A – I have met some, yes. Some girls watch their weight. The industry has changed and right now clients are more open to all body types, which is a good thing. So those times when girls had to starve themselves are over. Now it's all about the healthy glowing radiant looks.
Q – Very interesting, I am pleased to hear that. In the same interview for Maxim, you say that you 'sometimes eat at McDonald's" How often is that?
A – Haha Once in a couple of weeks or so.
Q – Have you ever been told that you should get into acting? That footage of you in the trailer for the book by Frank Strausser is pretty appealing.
A – That is on my list for sure. Now I seriously consider getting into acting. Like all of us, I obviously have my own fears to starts something new.
Q – Now about starting something new. Congrats on launching your brand. Let's talk about that. How long have you had this idea?
A – I had this idea for about a year before I actually start making moves. Yes yes, I am a big-time procrastinator. One day I went to a book store by Union Square and grabbed 'Launch your dream' by Dale Partridge. It's a 30-day plan for turning your 'passion into your profession' which inspired me to launch my own lingerie brand Skaya Shop.
Q – He is very inspirational, I agree. So what would you say is the most notable about your brand?
A – Skaya is classy, sassy, elegant, sophisticated. But it's very affordable. My goal is to make fabulous designs affordable.
Media Contact
Company Name: G Media Inc
Contact Person: Press Executive
Email: Send Email
Country: United States
Website: www.facebook.com/gmediasolutions