Sialorrhea Analysis, Market Size, Epidemiology, Leading Companies and Competitive Analysis By DelveInsight

DelveInsight has launched a new report on Sialorrhea Market Insights, Epidemiology and Market Forecast-2030
DelveInsight's "Sialorrhea – Market Insights, Epidemiology, and Market Forecast-2030" report delivers an in-depth understanding of the Sialorrhea, historical and forecasted epidemiology as well as the Sialorrhea market trends in the United States, EU5 (Germany, Spain, Italy, France, and United Kingdom) and Japan.
The Sialorrhea market report provides current treatment practices, emerging drugs, Sialorrhea market share of the individual therapies, current and forecasted Sialorrhea market Size from 2017 to 2030 segmented by seven major markets. The Report also covers current Sialorrhea treatment practice/algorithm, market drivers, market barriers and unmet medical needs to curate best of the opportunities and assesses the underlying potential of the market.
Sialorrhea, also known as ptyalis,is the condition of excessive drooling in children with cerebral palsy and adults who suffers from neurodegenerative disorders. Drooling is of two types, anterior and posterior drooling. Anterior drooling is defined as saliva spilled from the mouth that is clearly visible. When saliva spills through the oropharynx and into the hypopharynx it is known as posterior drooling.
This condition arises due to increased production of saliva (drug induced) or failure of mechanisms that clear and remove saliva from the oral cavity. Various physical and psychosocial complications, including perioral chapping, dehydration, odor, and social stigmatization arises during this condition and that can be distressing for patients and their families.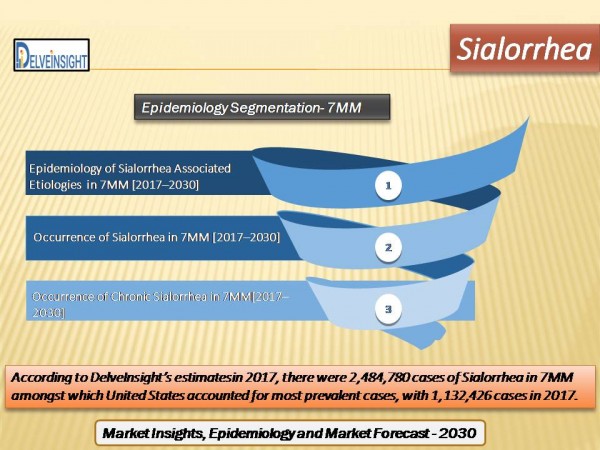 Request for :- Sialorrhea free sample page
Sialorrhea Epidemiology
The Sialorrhea epidemiology division provide insights about historical and current Sialorrhea patient pool and forecasted trend for every seven major countries. It helps to recognize the causes of current and forecasted trends by exploring numerous studies and views of key opinion leaders. This part of the DelveInsight report also provides the diagnosed patient pool and their trends along with assumptions undertaken.
Sialorrhea Drug Chapters
Drug chapter segment of the Sialorrhea report encloses the detailed analysis of Sialorrhea marketed drugs and late stage (Phase-III and Phase-II) pipeline drugs. It also helps to understand the Sialorrhea clinical trial details, expressive pharmacological action, agreements and collaborations, approval and patent details, advantages and disadvantages of each included drug and the latest news and press releases.
Sialorrhea Market Outlook
The Sialorrhea market outlook of the report helps to build the detailed comprehension of the historic, current, and forecasted Sialorrhea market trends by analyzing the impact of current therapies on the market, unmet needs, drivers and barriers and demand of better technology.
This segment gives a thorough detail of Sialorrhea market trend of each marketed drug and late-stage pipeline therapy by evaluating their impact based on annual cost of therapy, inclusion and exclusion criteria's, mechanism of action, compliance rate, growing need of the market, increasing patient pool, covered patient segment, expected launch year, competition with other therapies, brand value, their impact on the market and view of the key opinion leaders. The calculated market data are presented with relevant tables and graphs to give a clear view of the market at first sight.
According to DelveInsight, Sialorrhea market in 7MM is expected to change in the study period 2017-2030.
Report key facts:-
1. According to DelveInsight's estimatesin 2017, there were 2,484,780 cases of Sialorrhea in 7MM amongst which United States accounted for most prevalent cases, with 1,132,426 cases in 2017.
2. For the 5 major European Markets (EU5), the total number of prevalent cases of Sialorrhea were 999,549 in 2017, with highest prevalent cases observed in the Germany.
3. Among EU5 Countries Spain accounted for least number of prevalent population of Sialorrheawith 180,184cases in 2017
Key companies are working on Sialorrhea that are given below:-
1. Orient Pharma Co.
2. US worldmeds
3. Merz Pharma Co.
Drugs covered are given below :-
1. Myobloc
2. Xeomin
3. NH004
1. Key Insights
2. Executive Summary of Sialorrhea
3. Competitive Intelligence Analysis for Sialorrhea
4. Sialorrhea: Market Overview at a Glance
4.1. Sialorrhea Total Market Share (%) Distribution in 2017
4.2. Sialorrhea Total Market Share (%) Distribution in 2030
5. Sialorrhea: Disease Background and Overview
6. Patient Journey
7. Sialorrhea Epidemiology and Patient Population
8. Treatment Algorithm, Current Treatment, and Medical Practices
8.1. Sialorrhea Treatment and Management
8.2. Sialorrhea Treatment Algorithm
9. Unmet Needs
10. Key Endpoints of Sialorrhea Treatment
11. Marketed Products
12. Emerging Therapies
13. Sialorrhea: Seven Major Market Analysis
13.1. Key Findings
13.2. Sialorrhea Market Size in 7MM
13.3. Sialorrhea Market Size by Therapies in the 7MM
14. Attribute analysis
15. 7MM: Market Outlook
16. Access and Reimbursement Overview of Sialorrhea
17. KOL Views
18. Market Drivers
19. Market Barriers
20. Appendix
20.1. Bibliography
20.2. Report Methodology
21. DelveInsight Capabilities
22. Disclaimer
23. About DelveInsight
Why should you buy this report?
The report will help in developing business strategies by understanding trends shaping and driving the Sialorrhea market
To understand the future market competition in the Sialorrhea market and Insightful review of the key market drivers and barriers
Organize sales and marketing efforts by identifying the best opportunities for Sialorrhea in the US, Europe (Germany, Spain, Italy, France, and the United Kingdom) and Japan
Identification of strong upcoming players in the market will help in devising strategies that will help in getting ahead of competitors
Organize sales and marketing efforts by identifying the best opportunities for Sialorrhea market
To understand the future market competition in the Sialorrhea market
Related Reports:-
1. Sialorrhea – Pipeline Insights, 2020
2. Sialorrhea – Epidemiology Forecast to 2030
Media Contact
Company Name: DelveInsight Business Research LLP
Contact Person: Vinita Rakheja
Email: Send Email
Phone: +919650213330
Address:304 S. Jones Blvd #2432
City: Albany
State: New York
Country: United States
Website: https://www.delveinsight.com/