Interview with Chris and Elizabeth Knudson from LightBody Sound: From a serendipitous encounter, getting married to making music together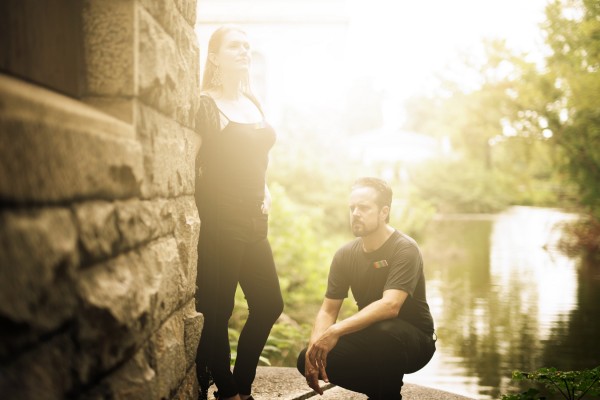 Photo by Joey Wharton
Chris Knudson is a talented producer, songwriter, singer and performer who has produced and released records under Kanude and Val Holler monikers while his music is also featured in HBO's "True Blood" and in a critically acclaimed, feature film "El Mariachi". His wife Elizabeth is a gifted vocalist, sound healer and intuitive/energy healer who has taught over 5000 students. About 12 years ago, the two gypsy souls coincidently met at a retired brothel in Texas and instantly connected. They are married for over a decade now, with two children and now making music together under their label "LightBody Sound".
In this exclusive interview, the duo talks about their wonderful love story, the musical journey so far and upcoming projects.
Interviewer: So, tell us the story of how you two met?
Chris: I was performing solo at a little Tex-Mex restaurant and music venue in downtown Houston called The Last Concert Café. I was opening up for a touring band which as I recall was the Yonder Mountain String Band. After I got off the stage, I was hanging out on the sand dance floor and a woman started dancing with me. Shortly after I walked over with her to her table of a few friends whom I had never met and started chatting with them. There was a woman in a black with her blond hair pulled back who intrigued me. She didn't really want to give me the time of day, but I chatted with her for a little while and half-guessed, half-intuited her sun sign correctly: Leo. She kind of brightened up a bit after that. Later on we all said our goodbyes, and I waved to the woman as I was off to Austin the next day to perform at a show during SXSW.
Elizabeth: I was disappointed that he didn't ask for my phone number and asked around who he was and found his profile on MySpace.
Chris: Yeah. I was during the MySpace era. It was St. Patrick's Day, 2006. I was a broke divorcee at the time staying at my mother's house, so I wasn't really seeking out a relationship. But we went on a few dates, including staying over at a house in Galveston with music producer Ronnie King, and we became a couple pretty quickly.
Interviewer: What inspires you to make music?
Chris: For me it's really about communing with an instrument, typically piano or guitar. Then the lyrics come from there. I do keep notes on song or lyrics ideas and occasionally a melody and lyric will come to me and I'll record it as a voice memo on my phone. For Elizabeth, it's her amazing and transformative voice which I make the best use of.
Interviewer: Describe your musical journey so far.
Chris: We are a husband-and-wife team with two school-age children, so it's been a slow progression getting this project written and recorded. We haven't had the opportunity to perform much yet and our summer 2020 performance plans have been postponed due to the coronavirus pandemic.
Interviewer: What kind of music you create with "LightBody Sound"?
Chris: Some of the genres that come to mind are synthwave and dream pop. The singles we have released so far are pretty traditional pop songs with hooks, but there are album tracks that border on new age, music theater and classical crossover (on the tracks like "Freedom Place" where Elizabeth lets her operatic voice rip.
Interviewer: Tell us about your music projects released so far?
Elizabeth: Our label Lightstone Records released the first single "Dream of Love" in October and our second and third singles "Gypsies" and "What About Love were released in early 2020. The music was produced by my talented husband Chris and mixed by a mix engineer John Norten in Los Angeles, who has worked with The Black-Eyed Peas among others.
Interviewer: Tell us about your upcoming projects.
Elizabeth and Chris: We are excited to release the album sometime this year and are actively seeking opportunities to use the recordings in film and TV projects.
More information can be found at lightbodysound.com.
Media Contact
Company Name: G Media
Contact Person: Grace Williams, PR Manager
Email: Send Email
Country: United States
Website: www.facebook.com/gmediasolutions