Abscess Analysis, Market Size, Epidemiology, Leading Companies and Competitive Analysis By DelveInsight

DelveInsight has launched a new report on Abscess Market Insights, Epidemiology and Market Forecast-2030
DelveInsight's "Abscess – Market Insights, Epidemiology, and Market Forecast-2030" report delivers an in-depth understanding of the Abscess , historical and forecasted epidemiology as well as the Abscess market trends in the United States, EU5 (Germany, Spain, Italy, France, and United Kingdom) and Japan.
The Abscess market report provides current treatment practices, emerging drugs, Abscess market share of the individual therapies, current and forecasted Abscess market Size from 2017 to 2030 segmented by seven major markets. The Report also covers current Abscess treatment practice/algorithm, market drivers, market barriers and unmet medical needs to curate best of the opportunities and assesses the underlying potential of the market.
An abscess is a cavity filled with pus (pyoderma or sepsis). It contains white blood cells, dead tissue, and bacteria. It is a painful condition, usually caused by a bacterial infection and can develop anywhere in the body. For example, when it affects the brain area it is called brain abscess (BA), if affects liver it called liver abscess, and when affects skin called skin abscess. Skin abscess is the most common type of abscess.
Anyone can get an abscess almost anywhere in the body. When an area of the body becomes infected, body's immune system tries to fight the infection. White blood cells go to the infected area, collect within the damaged tissue, and causes inflammation. During this process, pus forms. Pus is a mixture of living and dead white blood cells, germs, and dead tissue. Bacteria, viruses, parasites, and swallowed objects can all lead to abscesses. Skin abscesses are easy to detect. They are red, raised, and painful. Abscesses inside the body may not be obvious and can damage organs, including the brain, lungs, and others.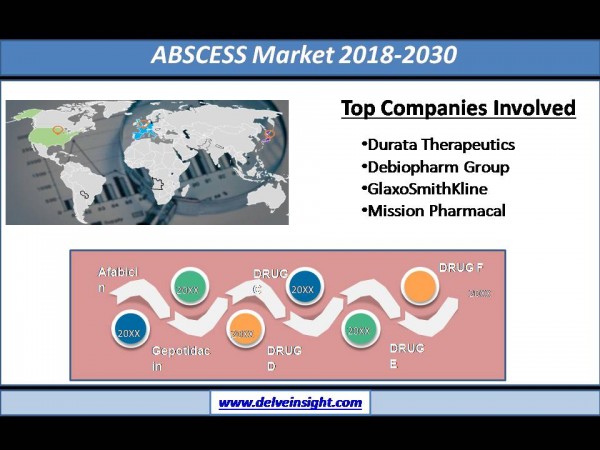 Request for: ABSCESS free sample page
Epidemiology
The Abscess epidemiology division provide insights about historical and current Abscess patient pool and forecasted trend for every seven major countries. It helps to recognize the causes of current and forecasted trends by exploring numerous studies and views of key opinion leaders. This part of the DelveInsight report also provides the diagnosed patient pool and their trends along with assumptions undertaken.
Report Key facts:-
1. In the United States, the estimated incidence of pyogenic liver abscess (PLA) based on a nationwide inpatient sample database was 3.6 cases per 100,000 population per year. According to a study by Ayush et al., titled "Epidemiologic Factors, Clinical Presentation, Causes, and Outcomes of Liver Abscess: A 35- Year Olmsted County Study" age-adjusted incidence of PLA for men was 3.92 cases per 100,000 person- years compared with 1.87 cases per 100,000 person-years for women
2. The article titled "Brain Abscess" by Maria et al. suggests that according to studies, the incidence of brain abscess is approximately eight percent of intracranial masses in developing countries and one to two percent in the Western countries with approximately four cases occurring per million. Approximately 1500– 2500 cases are diagnosed annually in the United States. It also indicates that brain abscesses are more predominant in males than in females with a male-to-female ratio varying between 2:1 and 3:1
3. The study conducted by Laura et al., titled "Incidence and recurrence of boils and abscesses within the first year: a cohort study in UK primary care", estimates that incidence of first consultation for a boil or abscess was 512 per 100,000 person-years in females and 387 per 100,000 person-years in males. First consultations were most frequent in younger age groups (16–34 years) and those with the greatest levels of social deprivation
Drugs Uptake
This section focusses on the rate of uptake of the potential drugs recently launched in the Abscess market or expected to get launched in the market during the study period 2017-2030. The analysis covers Abscess market uptake by drugs; patient uptake by therapies; and sales of each drug.
This helps in understanding the drugs with the most rapid uptake, reasons behind the maximal use of new drugs and allow the comparison of the drugs on the basis of market share and size which again will be useful in investigating factors important in market uptake and in making financial and regulatory decisions
Key major players working on ABSCESS that are given below:-
1. Mission Pharmacal
2. Durata Therapeutics
3. Debiopharm Group
Name of drugs covered that are given below:-
1. Tindamax (Tinidazole)
2. Dalvance (dalbavancin)
3. Afabicin (Debio 1450)
1. Key Insights
2. Executive Summary of Abscess
3. Competitive Intelligence Analysis for Abscess
4. Abscess : Market Overview at a Glance
4.1. Abscess Total Market Share (%) Distribution in 2017
4.2. Abscess Total Market Share (%) Distribution in 2030
5. Abscess : Disease Background and Overview
6. Patient Journey
7. Abscess Epidemiology and Patient Population
8. Treatment Algorithm, Current Treatment, and Medical Practices
8.1. Abscess Treatment and Management
8.2. Abscess Treatment Algorithm
9. Unmet Needs
10. Key Endpoints of Abscess Treatment
11. Marketed Products
12. Emerging Therapies
13. Abscess : Seven Major Market Analysis
13.1. Key Findings
13.2. Abscess Market Size in 7MM
13.3. Abscess Market Size by Therapies in the 7MM
14. Attribute analysis
15. 7MM: Market Outlook
16. Access and Reimbursement Overview of Abscess
17. KOL Views
18. Market Drivers
19. Market Barriers
20. Appendix
20.1. Bibliography
20.2. Report Methodology
21. DelveInsight Capabilities
22. Disclaimer
23. About DelveInsight
Why should you buy this report?
The report will help in developing business strategies by understanding trends shaping and driving the Abscess market
To understand the future market competition in the Abscess market and Insightful review of the key market drivers and barriers
Organize sales and marketing efforts by identifying the best opportunities for Abscess in the US, Europe (Germany, Spain, Italy, France, and the United Kingdom) and Japan
Identification of strong upcoming players in the market will help in devising strategies that will help in getting ahead of competitors
Organize sales and marketing efforts by identifying the best opportunities for Abscess market
To understand the future market competition in the Abscess market
Related Reports :-
1. Abscess – Epidemiology Forecast to 2030
2. Abscess – Pipeline Insights, 2020
Media Contact
Company Name: DelveInsight Business Research LLP
Contact Person: Yash Bhardwaj
Email: Send Email
Phone: +919650213330
Address:304 S. Jones Blvd #2432
City: Albany
State: New York
Country: United States
Website: https://www.delveinsight.com/