Spain Hotel Market is anticipated to reach USD 24.1 Billion by the end of the year 2025 – Renub Research
Our core team is comprised of an experienced people holding graduate, post graduate and Ph.D. degrees in Finance, Marketing, Human Resource, Bio-Technology, Medicine, Information Technology, Environmental Science and many more. Our research helps to make the business decisions: on strategy, organization, operations, technology, mergers & acquisitions etc. We support many blue chip companies by providing them findings and perspectives across a wide range of markets.
According to our study, the rapid growth in the international tourists are driving the tourism industry as well as the hotel industry and increasing the demand for the development of new hotels across Spain. By the year 2019 to 2020, Spain will open more hotels in cities like Madrid 3 hotels with 854 rooms, Barcelona 3 hotels with 422 rooms, with more cities to follow a similar trend, which is covered in this report.
Spain Hotel Market, Numbers & Forecast by Type (Luxury, Upscale, Midscale, and Budget & Economy), Ordering Platform (Online, Offline), Region, Hotels (Meliá Hotels International, Barcelo hotel group, NH Hotel Group, TUI Hotels & Resorts, and Marriott International)" provides a complete analysis of Spain Hotel Market.
Coronovirus impact on Spain Hotel Market
COVID-19 pandemic ravages heavy toll on Spain tourism. According to Spanish Hoteliers and the restaurant owner's coronavirus is the biggest crisis since the Second World War. The hotel industry of Spain battled economic downturns, terrorism, the collapse of Thomas Cook last year, and the odd natural disaster in the past, but coronavirus has brought this industry to a grinding halt.
However, the government of Spain has taken various measures to support the Spanish tourism sector. Such as allowing people more flexibility when it comes to paying taxes. Besides a €400 Million, the state-guaranteed credit line for the transport, tourism, and hospitality industries has also been issued. According to Renub Research, the COVID-19 will affect the hospitality industry in Spain for the year 2020, but from the 2021 hotel industry of Spain will start growing again. Spain Hotel Market is anticipated to reach USD 24.1 Billion by the end of the year 2025.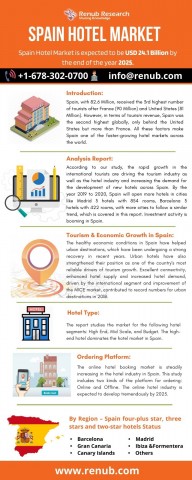 Factors driving Spain Hotel Market
The major factors that would propel the market growth are; increasing international tourists in Spain, rising per capita disposable income in Spain, several government initiatives, private investment, various hotel stocks in the pipeline, availability of ultra-luxury hotel etc.
After the manufacturing and business/banking industries, tourism in Spain is the third major contributor to national economic life, contributing around 11 percent of Spain's GDP. The country has been a popular summer holiday destination since the 1960s and 1970s, with, among others, large numbers of visitors from the United Kingdom, Ireland, France, Germany, Italy, the Benelux, and the United States.
Despite tough economic times, the hospitality industry as a whole has seen an unprecedented boom in profits over the last few years. In fact, Spain is the second highest-earning country in the world when it comes to tourism, and in 2017, it overtook the US to become the second most visited country in the world with 82 million tourists.
The healthy economic conditions in Spain have helped urban destinations, which have been undergoing a strong recovery in recent years. Urban hotels have also strengthened their position as one of the country's most reliable drivers of tourism growth. Excellent connectivity, enhanced hotel supply and increased hotel demand, driven by the international segment and improvement of the MICE market, contributed to record numbers for urban destinations in 2018.
Request a free Sample copy of the report: https://www.renub.com/request-sample-page.php?gturl=spain-hotel-market-p.php
In 2018, Barcelona reported the largest volume of overnight stays in Spain and remained the top town in RevPAR. Madrid is poised to become a top luxury-oriented European destination, with seven 5-star hotel projects in the pipeline. Seville, Bilbao and Valencia have been the cities that have seen the greatest increase in both demand and hotel efficiency over the last few years. The 14 cities account for 22.2 percent of Spain's overall hotel room supply. The four-star group comprised the largest proportion of the room stock in the destinations chosen
Market Summary:
@ The report discusses the market for the following types of hotels: High End, Mid Size, and Budget. The high-end hotel dominates the Spanish hotel industry.
@ The online booking demand for hotels in Spain is steadily growing. This study includes two forms of the ordering platform: Online and Offline. The online hotel industry is set to grow tremendously by 2025.
@ This report covers the Barcelona, Madrid, Gran Canaria, Ibiza & Formentera, Canary Islands, and Others status of 4 + Star, 3 Star, and 2 Star Hotels. Each area provides as follows:
# Number of Room
# Room Average Daily Rate (ADR)
# Revenue per Available Room (RevPAR)
# Occupancy Rate
Renub Research Blog: https://renubresearch.wixsite.com/report
If the information you seek is not included in the current scope of the study kindly share your specific requirements with our custom research team.
Browse Related Reports :
Contact Us
Email: [email protected]
Phone: +1-678-302-0700
Web: www.renub.com
Key Topics Covered :
1. Introduction
2. Research & Methodology
3. Executive Summary
4. Market Dynamic
4.1 Growth Drivers
4.2 Challenges
4.3 Opportunities
5. Spain Hotel Market
5.1 Market
5.2 Number of Hotel
5.3 Number of Hotel Rooms
5.4 ADR (average daily rent per night)
5.5 Occupancy Rate
5.6 REVPAR (Per room per night)
6. Share – Spain Hotel Analysis
6.1 Hotel Type – Volume Share
6.2 Ordering Platform – Market Share
7. Hotel Type – Spain Hotel Market and Volume
7.1 Luxury Hotel
7.2 Upscale Hotel
7.3 Midscale Hotel
7.4 Budget & Economy Hotel
8. Ordering Platform – Spain Hotel Market
8.1 Online Hotel Market
8.2 Offline Hotel Market
9. By Region – Spain Hotel Market
9.1 Barcelona
9.2 Madrid
9.3 Gran Canaria
9.4 Ibiza & Formentera
9.5 Canary Islands
9.6 Others
10. Spain Hotel Ranking by Size 2018
10.1 Chain Groups 2018
10.2 Domestic Chain Groups 2018
10.3 International Chain Groups 2018
11. Mergers and Acquisitions
12. Company Analysis
12.1 Meliá Hotels International
12.2 Barcelo Hotel Group
12.3 NH Hotel Group
12.4 TUI Hotels & Resorts
12.5 Marriott International
About Us:
Renub Research is a Market Research and Consulting Company. We have more than 10 years of experience especially in international Business-to-Business Researches, Surveys, and Consulting. We provide a wide range of business research solutions that helps companies in making better business decisions. Our clients rely on our market analysis and data to make informed knowledgeable decisions. Our pertinent analysis helps consultants, bankers and executives to make informed and correct decisions.
Media Contact
Company Name: Renub Research
Contact Person: Rajat Gupta
Email: Send Email
Phone: 16783020700
Address:225 Kristie Ln
City: Roswell
State: GA
Country: United States
Website: www.renub.com/hotels-and-hospitality-services-19-c.php