Interview with "Adventure-loving" artist, DJ, and graphic designer – 2Locks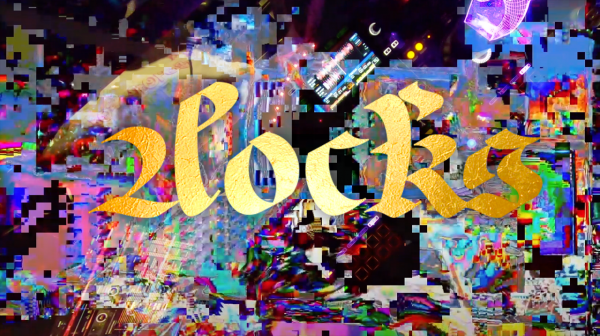 2Locks is a multi-disciplinary artist, photographer, graphic designer, DJ and budding electronic music producer. After gaining success and fame on his IG TV videos, 2Locks decided to move to Patreon and YouTube to grow his audience and receive better compensation for his premium content. He is also an art director/creator of bike club turned cross-country collective – Los Angelope's Heavy Industries – a group of artists, fabricators, fashionistas, trouble makers, and club kids, mainly located in Los Angeles, New York, New Orleans, Oakland, Detroit and the Ocean.
In this exclusive interview, he talks about his love and passion for music and his musical journey so far.
Interviewer: How did you get into music?
2Locks: I was fortunate enough to grow up in the suburbs, outside of Newark / New York City in the early 2000s. The punk scene in New Jersey was exploding at that time, with bands like Thursday and Saves the Day getting national airplay and shows being performed in VFW halls, churches, and basements in every county across the state. The Hip-Hop being produced during this time in New York City and LA had a really fresh, new sound, and when I wasn't blasting Converge on my car's lousy stereo, my radio was locked on Hot 97. DJing was just something I fell into because I had an incredible group of friends growing up (and still do) who were in bands and continued to use that skill set to throw and DJ parties in high school, college and long after.
Interviewer: Describe your music style?
2Locks: I make expensive and abandoned house music; sometimes, deep water house music.
I like my techno hard, dark, and as loud as humanly possible. I mostly play underground raves, so my music is a reflection of that illegal culture and the realities of life in cities like Oakland, Detroit, South Central LA and Brooklyn.
Interviewer: Tell us a little more about your musical journey so far
2Locks: After I graduated, I moved to Newark with some of my old friends in 2007. I was working in Manhattan, going out to shows/raves in deep Brooklyn every weekend and by this time, I started to dabble in music production and bought my first gear (Korg Kaoss Pad KP3 & Kaossilator) but couldn't pull myself away from the DJ software Traktor long enough to release anything other than mostly chopped and screwed mixes.
In September 2008, I lost my job in the great recession and then in October I went to Black Label Bike Club's annual BIKE KILL event in Bushwick. I love sculpture and performance art, so seeing them combined in such a way was just insanely inspiring. It was at this event that I met THE MIDNIGHT RIDAZZ, and some of the people who would go on to be my closest friends and collaborators. Like many other bike clubs from across the country, they were in town for the event, and either B-Rad or Marcus said, "Come to Austin for SXSW and get in the van going back to LA." So like Henry Rollins said to do, I got in the van and two days later I stepped foot in Echo Park for the first time. The "bike scene" was at critical mass and I got involved with a group of freak bike riders on the Westside who were throwing weekly rides and pedalling around sound systems on them. I love sound system culture and before long i build my first tall bike and then bought a JBL PA and put it on a trike with a battery and an inverter and began DJing rides like the West Side mosey and CRANK MOB.
Interviewer: Tell us about your latest projects and your motivation behind it.
2Locks: I'm currently on the first leg of my Water World Tour and I'm planning on sailing around the world, making content, reviewing tech toys, dishing the dirt on contemporary culture, live-streaming my sets and doing pop-up social distance raves in coastal cities, using a custom-built LRAD to beam heavy techno to the shoreline.
I'll hopefully be producing music using two Korg Volcas and Ableton when I'm not on watch, so I think all the time on the open water, away from the internet will be a really good time to focus on production because up until now I haven't had enough time for it.
Interviewer: Any message for your fans and readers?
2Locks: Thank you to everyone who has supported me on this musical journey, especially during the East Bay Covid Vortex. Please follow me on Instagram, become a Patron to see all the photos and videos that I can't post to IG and see photos from the water world tour.
Media Contact
Company Name: Los Angelopes Heavy Industries
Contact Person: Toledo Westchester
Email: Send Email
Country: United States
Website: soundcloud.com/2locks