Diawater, the first bottled oxygen-rich permanent hexagonal deuterium reduced water is now available through its Indiegogo campaign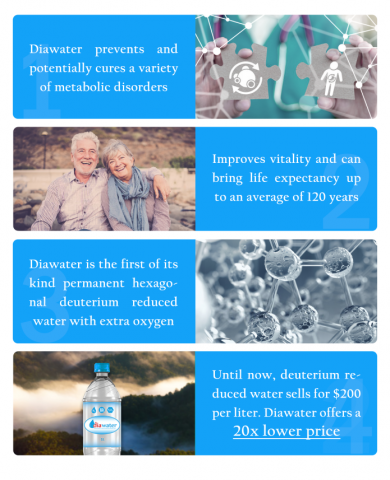 Diawater is the first of its kind permanent hexagonal deuterium reduced water with extra oxygen, that offers a variety of health benefits while preventing the occurrence of several chronic diseases. Using the innovative technology from the space industry, Diawater claims to have created the purest man-made water on the planet. Until now, the deuterium reduced water was available for as much as $200 per liter but Diawater offers similar quality water at a price 20 times lesser than that.
Deuterium reduced water is helping cosmonauts survive in the extreme conditions of space. It wasn't until a few years back, that humans realized the benefits of such water for the earthlings, that it started getting popular worldwide, to prevent many chronic ailments. Due to the complex process of deuterium reduction, the water may cost upwards of $200 per liter, but Diawater is revolutionizing the industry by using patented methods, to bring down the price drastically.
Diawater delivers an advanced level of hydration that protects the body from several metabolic disorders and other diseases such as diabetes, high cholesterol, High blood pressure, heart ailments, etc. Many independent and single-blind studies are there to back all the claims by Diawater, including one conducted by the Department of Endocrinology of the Russian Research Centre of Restorative Medicine and Balneology. The study conducted on 66% women, and 34% of men, found that Diawater has a pronounced hypoglycemic effect, and improves fat metabolism indicators, blood rheology, and general health.
Diawater can play a key role in preventing dehydration and its related adverse effects in people with certain diseases who are advised by their doctors to consume less water and children who just aren't that fond of drinking water. Being oxygen-rich, drinking Diawater results in more effective and efficient hydration of the body with a relatively lesser amount of water consumed. Oxygen-rich water is proclaimed to penetrate the cells more effectively, warding off bacteria, fungi, and viruses that thrive in areas that lack oxygen.
In simpler words, Diawater is structured, magnetized water which means that strong magnetic forces have impacted every molecule of the water, reducing their size and rearranging its structure to a hexagonal cluster. This type of water is naturally found at very few places on earth including the heart of Antarctica, just above the Earth's natural pole.
Thanks to DiaWater, one can reap the benefits of advanced hydration designed to mimic the effects that nature's coldest environments have on water molecules.
Diawater has recently launched a fundraising campaign on Indiegogo and the backers have a chance to pre-order it at discounted prices, through various rewards.
Media Contact
Company Name: Handelsvertretung Arthur Trankle
Contact Person: Media Relations
Email: Send Email
Country: Germany
Website: diawater.store