Get ready to delve into the melody and rhythm of D. K. Lyons' euphonious upcoming album "The Past (Romanticized)"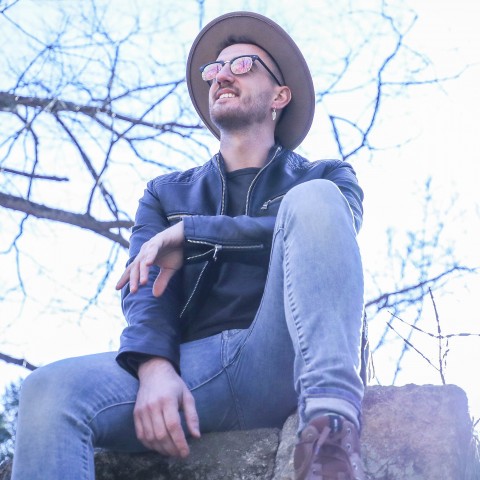 Born in Massachusetts and based in Brooklyn, D.K. Lyons is a self-taught songwriter and artist, grounded with a unique style and voice, seeking to turn heads with lyrical creativity and great music. D. K. Lyons seeks to learn from his mistakes, and after facing more than his fair share of failure, he stands where he is today, ready to release his debut album, all because he never lost faith in himself and his music.
D. K. Lyons upcoming album "The Past (Romanticized)" will be out on June 26, 2020. This album will be like a glimpse back at relationships, loss, and growing up, all romanticized in D.K.'s unique storytelling style. There will be 12 astounding songs in this album including- "The Getaway", "Shades of Amber", "Dance like Shadows", "Sleep with the Lights On", "Perfume", "Run to Me", "Feels like Flying", "Long Way Home", "Polaroid", "Danger", "Dark Dreams", and "American Slang".
Two singles from this album, "Danger" and "Shades of Amber" have already been released with music videos and are winning the listeners' hearts. The album title pulls from a line in a song called "Long Way Home", which lyrically, can be considered as the strongest on the album, but there is a constant theme throughout because each song is about the past, but wrapped in a way that romanticizes it rather than tells the stories in a straightforward way. And sonically, there is something for everyone on the album; songs to dance to, songs to cry to, songs to listen to in silence on a long drive to somewhere.
"I've written over 1,500 songs in my life, but only in the last 2-3 years have I felt like I've written songs worthy of sharing publicly, after working tirelessly on the craft for so many years behind closed doors. I then teamed up with my producer, Steve, in 2018 and released a debut EP to test the waters, and then really focused the last 2 years on recording my album and rehearsing for my eventual live electric performances after really only playing acoustic open mics for the last 3 years too", says D. K. Lyons, explaining about his musical journey so far.
You can certainly find a hint of Tom Petty's influence in D. K. Lyons' music as he has been a huge inspiration for D. K. Lyons from a young age. He wants to be known as an artist who can beautifully write in almost any genre, with any sound.
D. K. Lyons hopes that his fans and all other listeners will appreciate the hard work that he has put into his upcoming album, and enjoy it with all their hearts.
Listen to all music by D. K. Lyons songs on Spotify
Media Contact
Company Name: D.K. Lyons
Contact Person: Catherine Haggerty
Email: Send Email
Country: United States
Website: dklyonsmusic.com