An alarm clock app that makes it impossible to sleep once it goes off
There is an up and coming new app that promises to wake users from the deepest sleep by using odd sounds as alarms. The app, Odd Alarm, comes with 10 free sounds. Several other sounds and themes can be purchased. Shutting down the alarm also requires completing a quick and fun game, which limits the chance of snoozing. The app is available for both Android and iOS users for free (with additional in-app purchases available).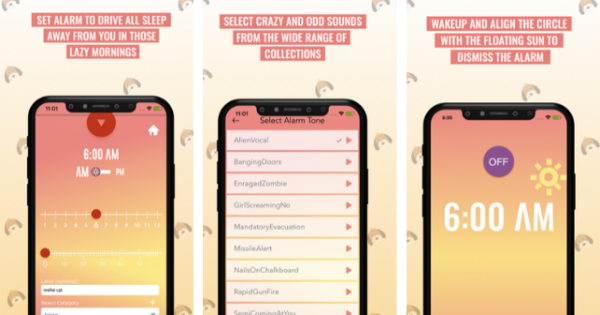 This new interactive alarm app promises to wake you up instantly, every morning, with odd alarm sounds that will shake you out of your sleep.
If you often reach for the snooze button in the morning or find yourself groggy and confused, because you are not fully awake, Odd Alarm app promises to wake you up in one-go with invigorating sounds!
"If you have a furry companion, you know that sound it makes when it is about to puke. Nothing gets you out of the bed faster," says Clinton, one of the app developers. "If you are tired of your habit of oversleeping, Odd Alarm lets you choose super annoying sounds like cats fighting, shattering glass, or a dog right about to puke, to literally annoy you out of sleep. You will never sleep through a boring alarm again!" he adds.
The Odd Alarm app comes equipped with all the regular alarm clock functions, such as setting multiple alarms, timers, and a snooze. In addition, it gives users the option to choose from 10 free custom sounds and several more startling sounds available for in-app purchase.
There are multiple snooze options if you are a really heavy sleeper, but you can't easily snooze with just a tap or swipe. Instead, there's a quick and fun game that requires you to chase the morning sun to turn off the alarm. Besides choosing your alarm sound, you can also customize the app with your favorite themes and pick from cute animal-characters to turn off the alarm.
Whether it is a dog about to puke, cats fighting, or an enraged zombie, if your aim is to bolt out of sleep, Odd Alarm seems to be a promising app to get the job done. You can learn more about the app by downloading it from the app store or Google Play and trying it out yourself!
About Company/Developer Information:
Clinton and Daley know what it's like when your dog wakes you because it is about to vomit. You come out of the deepest sleep and bolt out of bed immediately. After one particular night of a similar experience, the idea for Odd Alarm was born. Soon after, they started brainstorming on all the odd sounds that have the same effect and were able to complete the Odd Alarm app.
Media Contact
Company Name: Odd Alarm
Contact Person: Clinton and Daley Lightfoot
Email: Send Email
Phone: 817-381-6141
City: Burleson
State: Texas
Country: United States
Website: http://oddalarmapp.com/