Pallet Trucks Market Expected to Register a Robust CAGR of 6.8% During 2018-2028 | Future Market Insights
Pallet Trucks Market Players to Eye Booming E-commerce for Launching New Warehouse-specific Application Models
Deployed in almost all kinds of industrial and logistic workplaces, pallet trucks have witnessed increased adoption in recently years owing to effective maneuverability and material handling operations. According to a recent study by Future Market Insights, a leading market foresight company delivering actionable insights to key leaders, the prospects of the pallet trucks market continue to be positive, representing a robust CAGR of 6.8% over the forecast period of 2018-2028. In terms of value, the global consumption of pallet trucks is likely to stand at a promising market valuation of US$ 57.6 Bn by the end of 2028.
Other factors that are likely to augur well for the future expansion of the pallet trucks market over the forecast period includes development of large scale industrial projects that requires constant shipping of new products and orders, coupled with safe and smooth heavy load puling and reduced operator downtime. Furthermore, demand for pallet trucks is estimated to increase in manufacturing warehouses, retail storage and marine ports owing to its ergonomic handling and robust designs. Although silent pallet trucks are likely to dominate the global market, weighing pallet trucks and silent pallet trucks are gaining popularity at a significant pace—especially in retail sector.
Request a Sample Report with Table of Contents and Figures: https://www.futuremarketinsights.com/reports/sample/rep-gb-3458
China and Japan are likely to dominate the global pallet trucks market as most of the key players are present in these regions such as Toyota Motor Corporation. On the other hand, India and South East Asia are projected to be the fastest growing electric pallet truck market owing to growing manufacturing activities and rapid industrialization. North America is likely to witness augmented demand for electric pallet trucks due to growing demand from warehouse and retail stores.
Pallet Trucks Market: Electric Pallet Trucks to Take Control over Conventional Fuel Driven Trucks
As commercial vehicles come under stricter emissions regulation purview enforced by several local and national governments across the globe, industries that involve maneuvering operations are looking for ways to incentivize fleets and invest into fuel efficient technologies as well as cleaner burning fuels. The adoption of electric vehicles (EV) in the freight sector appears to be progressing faster than expected, potentially presenting major challenges for conventional fuel-driven pallet trucks. Additionally, through a combination of electric and hydraulic trucks, industrial operations such as lifting and transporting heavy pallets is likely to ease maneuvering for those in the freight sector.
Preview Analysis Pallet Trucks Market Segmentation: By Control – Manual, Semi Electric, Electric, Diesel, Compressed Natural Gas (CNG), Others; Type – Standard, Quarter, Silent, Weighing, Scissor ; Capacity – Below 2000 KG, 2000-4000 KG, 4000-6000 KG, Above 6000 KG; End use – Food & Beverage, Retail Stores, Wholesale Distribution, Freight & Logistics, Manufacturing, Others: https://www.futuremarketinsights.com/reports/pallet-trucks-market
The overall shift in the market from internal combustion engines toward electric powered forklifts reflects changing business needs. As a result, the companies are working closely with end users to develop products to suit particular applications and markets. Companies are also finding alternative battery systems that are energy efficient and offer quick charging or refueling. New technologies like these will mean longer run time of electric pallet trucks, reduced charging time and increased.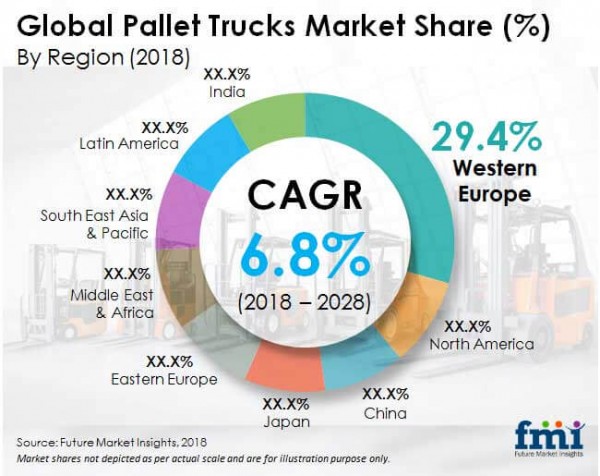 According to an expert analyst of Future Market Insights, "CNG is a viable option that can provide comparable power to diesel engines with clean powered trucks. CNG fuel being readily available, incentives offered by agencies, and several weight classes available are some factors that are likely to provide long-term value for the investors by increasing revenues from the alternative fuel pallet trucks globally."
Pallet Truck Market: Ecommerce to Change Warehousing Landscape as Demand for Both Increasing
Internet, e-commerce, mobile communication and, urbanization are revolutionizing the retail sector and as a result, changing the nature of the warehouses. On the other hand, overall economic growth and improved manufacturing means that a diverse array of companies and customers will need more warehouse space. Ecommerce boom and the need for more warehouse space is reshaping the entire supply chain—creating demand for pallet trucks and changing the way businesses store goods. The transportation, logistics, and distribution industries continues to be primary market drivers for the pallet trucks market.
Our advisory services are aimed at helping you with specific, customised insights that are relevant to your specific challenges. Let us know about your challenges and our trusted advisors will connect with you: https://www.futuremarketinsights.com/askus/rep-gb-3458
As technology is evolving, key players are making pallet trucks more energy efficient, cost effective, and appropriate for a wider range of application– with increased operator comfort and protection. Key manufacturers including Toyota, Kion, Mitsubishi Logisnext Co., Jungheinrich AG, Crown Equipment, Hyster-Yale, and Kalmar are focusing on equipment's design and capabilities. Pallet trucks overall have been getting smaller and lighter, with lower capacities. Raw materials including thermo elastomers, ductile iron, and high strength low-alloy are being used to improve strength and durability without increasing the weight of the truck.
Table Of Content
1. Executive Summary
1.1. Market Overview
1.2. Market Analysis
1.3. FMI Analysis and Recommendations
1.4. Wheel of Fortune
2. Market Introduction
2.1. Market Definition
2.2. Market Taxonomy
3. Pallet Trucks Market Background
3.1. Macro-Economic Factors
3.2. Opportunity Analysis
3.3. Global Economic Outlook
3.4. Market Dynamics
3.4.1. Drivers
3.4.2. Restraints
3.4.3. Trends
3.5. Value Chain Analysis
3.6. Opportunity Assessment Factors – Relevance & Impact
4. Global Pallet Trucks Market Analysis 2013–2017 and Opportunity Assessment 2018–2028
4.1. Market Volume Projections
4.2. Pricing Analysis
4.3. Market Size Projections
4.3.1. Y-o-Y Projections
4.3.2. Absolute $ Opportunity Analysis
5. Global Pallet Trucks Market Analysis 2013–2017 and Opportunity Assessment 2018–2028, By Control
5.1. Introduction
5.1.1. Market Value Share Analysis By Control
5.1.2. Y-o-Y Growth Analysis By Control
5.2. Historical Market Size (US$ Mn) and Volume By Control, 2013–2017
5.3. Market Size (US$ Mn) and Volume Opportunity Assessment By Control, 2018-2028
5.3.1. Manual
5.3.2. Semi Electric
5.3.3. Electric
5.3.4. Diesel
5.3.5. Compressed Natural Gas (CNG)
5.3.6. Others
5.4. Market Attractiveness Analysis By Control
6. Global Pallet Trucks Market Analysis 2013–2017 and Opportunity Assessment 2018–2028, By Type
6.1. Introduction
6.1.1. Market Value Share Analysis By Type
6.1.2. Y-o-Y Growth Analysis By Type
6.2. Historical Market Size (US$ Mn) and Volume By Type, 2013–2017
6.3. Market Size (US$ Mn) and Volume Opportunity Assessment By Type, 2018-2028
6.3.1. Standard
6.3.2. Quarter
6.3.3. Silent
6.3.4. Weighing
6.3.5. Scissor
6.4. Market Attractiveness Analysis By Type
Download Complete TOC Of this Report @ https://www.futuremarketinsights.com/toc/rep-gb-3458
About Us
Future Market Insights (FMI) is a leading market intelligence and consulting firm. We deliver syndicated research reports, custom research reports and consulting services which are personalized in nature. FMI delivers a complete packaged solution, which combines current market intelligence, statistical anecdotes, technology inputs, valuable growth insights and an aerial view of the competitive framework and future market trends.
Media Contact
Company Name: Future Market Insights
Contact Person: Abhishek Budholiya
Email: Send Email
Phone: +442076928790
Address:3rd Floor, 207 Regent Street
City: London
Country: United Kingdom
Website: https://www.futuremarketinsights.com/reports/pallet-trucks-market